How well do you know your customer? What would you do to get to know them better? Would you become a pizza delivery driver? Four guys build the first food delivery app to solve a big problem for the restaurant industry.
Dave Young:
Welcome to the Empire Builders podcast, teaching business owners the not so secret techniques that took famous businesses from mom and pop to major brands. Stephen Semple is a Marketing Consultant, Story Collector and Storyteller. I'm Stephen's sidekick and business partner, Dave Young. Before we get into today's episode a word from our sponsor, which is well it's us, but we're highlighting ads we've written and produced for our clients. So here's one of those.
[Armadura Ad]
Dave Young:
Stephen, I know we want to record another episode here but I'm a little hungry, a little snackish. I know we're sitting here in different cities. I thought maybe I'd get some DoorDash coming in.
Get some food delivery, baby.
Dave Young:
It's been a big deal the last year and a half in the whole pandemic thing.
Stephen Semple:
We're going to talk about DoorDash and you're absolutely right, it has been a big deal and it's interesting when you think about these companies were formed before the pandemic and then the pandemic came along and just boosted them into a whole new stratosphere. There's now a whole collection of them fighting out for dominance. But DoorDash is interesting and there's a few things that we can learn from DoorDash. So DoorDash was founded in Palo Alto, in the fall of 2012 by Tony Xu, Andy Fang, Stanley Tang and Evan Moore. They were all students at Stanford University at the time. Now today, nine years later, so they went from zero to a nine years they're doing $3 billion in sales and have 3,800 employees. They went public in December of 2020 and they raised $3.37 billion.
Dave Young:
Okay.
Stephen Semple:
Now I know there's a lot of controversy around DoorDash because they're losing money and there's questions about whether this is really good for the restaurant business but you know what, when somebody goes and in nine years makes a business that goes from zero to being a billion dollar business, I think they're worth paying attention to and there's probably a lesson or two in there.
Dave Young:
There's some empire building going on there for sure.
Stephen Semple:
There's a little bit of empire building going on and this is what this podcast is all about. Right? So Tony Xu and the team were students at Stanford. While they were in Stanford, they built an app for small business and specifically restaurants and one of the reasons why Tony Xu was interested in restaurants is when he was growing up, his mom ran a restaurant and he did all sorts of work in restaurants and that's how she got the money and helped him get through school. So he had this natural affinity to wanting to help out restaurants and specifically small restaurants. So Tony built this app and what he started doing was going door to door, visiting potential customers. He got out of the school, had this app, went visited restaurants and he showed them this app. This app was not the DoorDash app, it was something different because what he discovered when he was showing people this app, restaurant tourists were going, yeah, I'm not interested in that but here's my problem.
Dave Young:
Yeah.
Stephen Semple:
Here's all these orders that I got in for delivery and I can't fill them because I don't have any delivery. So he, all of a sudden went, holy smoke, the problem these businesses have is food delivery. What I'm going to do is help them get these lost sales. I'm going to create something for food delivery. And he would also realize that it would be much easier to sell an app if the solution was tied to sales. Right? So anytime we tie a solution to sales, it's much easier to get people to buy it. Hark them back to episode 10, when we talked about J.D. Power, similar idea that J.D. Power [inaudible 00:04:44]. So he gathers his team and he says, "Hey, let's figure out how to do a food delivery app." But here's where I really admire Tony Xu.
Stephen Semple:
Tony said, "Okay, we need to understand the problem but we need to understand the problem also from the food delivery problem." So what did he do? He graduates from university, he's got a degree from Stanford, he's a smart guy and he gets a job doing food delivery for Domino's. Because what he wanted to do was learn the problem. And what he realized is that proper scale is really hard to achieve because he looked at, do you buy your own fleet? That's a slow growth model, looked at it, all sorts of other things. But then he did the thing that we say to do in this podcast. Look around to other industries.
Dave Young:
That have already solved a similar problem.
Stephen Semple:
Right. And guess who had solved a similar problem? Uber for taxi delivery. So here's the irony. Uber Eats came after DoorDash. DoorDash got the idea from looking at Uber, which is crazy, right? So they built this website called Palo Alto Food Delivery, that was the first website that they built. It basically had eight PDFs of menus and they got Google voice set up for the phone and in January 12th, 2013, they get their first orders. So what ends up happening is these Stanford grads become full-time food drivers. Quit the job at Dominos to go become a food driver for themselves.
Dave Young:
But they're learning.
Stephen Semple:
But they're learning and they go door to door and they sign up 50 customers for free because again, they need customers. They need to test this idea out. And again, does that sound familiar? Sweat, determination, handholding the driver [inaudible 00:06:27] sounds like episode nine of Spanx, right? This is reoccurring themes. The restaurants are hesitant but they decide to give it a go and eventually word gets around and orders start flooding in and at this point they decide, you know what, we need a new name and that's when doordash.com is born. It all of a sudden just took on this momentum of its own and grew and grew and grew and they did more and more cities. Next thing you know, they're $3 billion business.
Dave Young:
Next thing you know, that's it.
Stephen Semple:
Next thing you know.
Dave Young:
Badaboom. What do you think is the most important part of what they did to get to the point that they were DoorDash?
Stephen Semple:
They did two very critical things. The first one is they got out of the school, out of their development mode, they went out and they visited customers face to face. When the customers rejected their first idea and said my problems over here, they went, hold on a second, you've got a problem over here. Well, we can solve that problem. They really got out and did legwork and footwork to know the customer and truly understand the customer's problem. This case, the restaurant business.
Dave Young:
Right.
Stephen Semple:
The next thing that they did to know the problem was-
Dave Young:
Stay tuned, we're going to wrap up this story and tell you how to apply this lesson to your business right after this.
[Empire Builders Program Ad]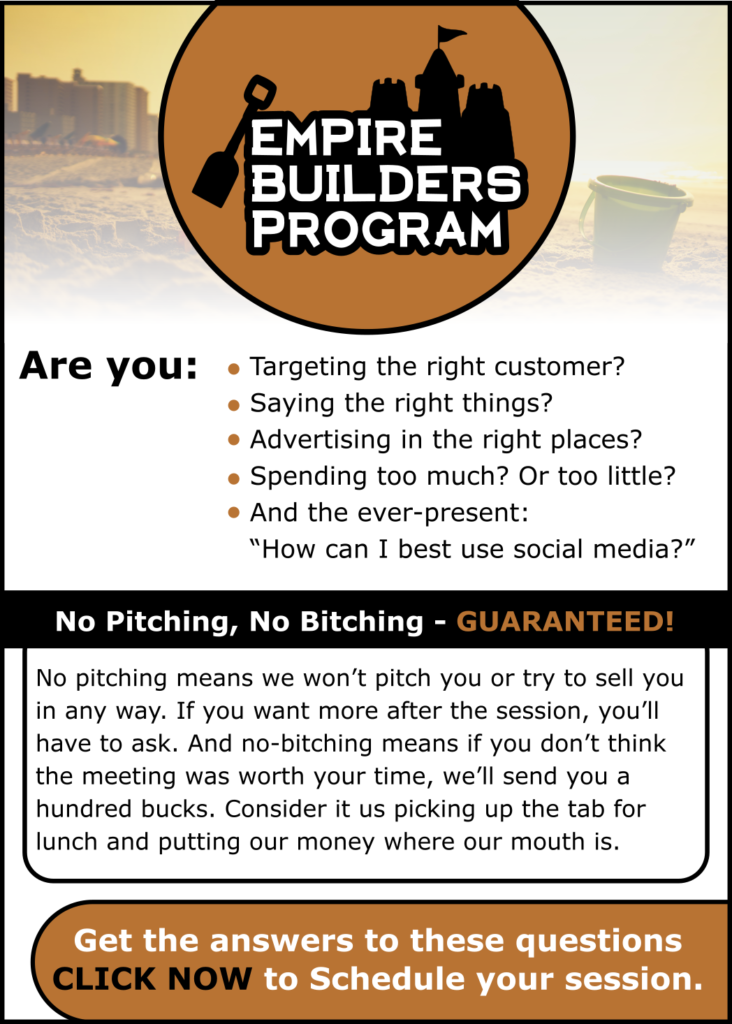 Dave Young:
Let's pick up our story where we left off and trust me, you haven't missed a thing.
Stephen Semple:
Right, the next thing that they did to know the problem was went and worked with food delivery people. These guys had degrees from Stanford. They could do a lot better than working for the Dominos schlock and pizzas. And even when that business first launched, they continued to do that part of the business because they were like, we got to understand this problem and to understand it is to live it.
Dave Young:
Yeah. In the startup world, they would call all of this market validation. And you just, you don't get anywhere without doing that because your assumptions, if you're not in the restaurant business, you don't know what you don't know. And he made the assumption at first that he had something that they needed and was probably just something that was going to cost them more and yet DoorDash has… It's one of those businesses that has two customers. There's restaurants and there's people that want to eat.
Stephen Semple:
Well, there's really three. You got restaurants, people who want to eat and the delivery people.
Dave Young:
Well, yeah, good point. It reminds me of the radio industry or television. You've got an audience of advertisers that you're trying to sell to and you've got an audience of consumers and listeners and viewers that you need to always be providing good quality content and entertainment to.
Stephen Semple:
And think about this.
Dave Young:
And you got to balance those.
Stephen Semple:
Yeah and Tony was not naive to the restaurant business. He grew up in the business. His mom ran a place and so in many ways he wasn't naive to it. He understood that business. He could sit there and say, I know this but he still went out and did the leg work and went, no, this is the problem over here and then did further leg work to understand the problem. I think if the more startups did that, even if more businesses did that, understand the customer's problem better, from the customer's perspective, I think there'd be a lot more success. I'm amazed at the number of startups that I meet with. I start asking them questions about the customer and I get crickets. Like man, until you understand that you ain't got no business.
Dave Young:
Yeah. They're answering a question nobody's asking.
Stephen Semple:
Right. So go out and find the question that no one is answered.
Dave Young:
Yeah. Well this has been fascinating. I got to run, the doorbell just rang.
Stephen Semple:
Pizza.
Dave Young:
Thanks for listening to the podcast. Please share us. Subscribe on your favorite podcast app and leave us a big fat juicy five star rating and review at Apple podcast. And if you'd like to schedule your own 90 minute Empire Building session, you can do it at empirebuildingprogram.com.